Preparing Your Home for Vacation
Planning a vacation is exciting and you probably already have a packing list. Make sure your home is ready for your vacation too – add our ultimate Vacation Security Checklist to your to-do lists. Then enjoy your vacation knowing your home is safe and secure.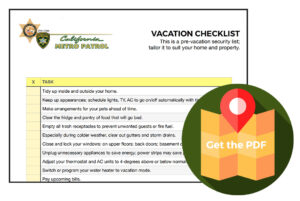 Most of the to-dos on this checklist are things you can do right away; some items may require a little investment and forethought if you don't already have a security system or
camera and video monitoring
. By planning ahead and taking action now, you can have a great security system by the time you leave on vacation.
The Vacation Security Checklist will help you keep organized as you prepare to leave. Here's an overview for safety:
Keep Up Appearances
Tidy up your front yard and driveway
Schedule a hold on your mail, newspapers, water deliveries, etc.
Schedule lights and TV with automatic timers
If you'll be away during your trash pick up, ask a trusted neighbor to put them out and take them in while you're away
Prepare Your Home
Make arrangements for your pets
Take out any perishable food items
Turn off large appliances and unplug small appliances not in use
Set your thermostat to temperatures close to outside; keep in mind any indoor plants
Empty your trash cans
Don't leave large trash and recycling bins at the curb; ask a neighbor to bring them in for you
If you'll be away for an extended time, shut off gas and water to prevent leaks or fires
Keep Your Home Secure
Notify your security company you'll be away
Collect all your spare keys
Ask a trusted neighbor to keep an eye on your property
Notify someone you trust of your itinerary and again when you return
Make sure to lock your doors and windows on all floors; gates, storage areas, garage
Double check that your motion sensor lights, alarms and other security systems you have in place are in good order
Arm your security system when you leave
Your Security
Set up an ICE – In Case of Emergency – contact
Store your valuables, important documents, and fire arms
Advise  your financial institutions you'll be traveling
Limit social media posts announcing your travel plans
Don't include your address on your luggage tag; use your phone number
Schedule a CMP Vacation Watch
If you are a current California Metro Patrol customer (home or business), you qualify for our Vacation Watch Program.
We add another layer to security while you're away by doing specials check on your home or business. We need to know the dates of your departure and arrival back in town and any specifics about your property or home. This service includes complimentary:
Perimeter checks of the property (drive or foot patrol)
Gate lock checks
Securing your package deliveries
Securing your mail and publications
Other special requests
Our security officers deliver The Marked Difference by making sure the service we provide gives you peace of mind so you can enjoy your time off. You must be a current California Metro Patrol customer to qualify! You can fill out the Vacation Watch Request and send it to us online:
---