Home burglaries cause financial and property loss, as well as suffering to your peace of mind and sense of security and safety. There's no fail-safe guarantee that you won't become victim to a burglary, but burglaries are also often preventable if you're proactive and not reactive after the loss. 
To get a better understanding of residential burglary, we've put together 18 insights and statistics about home burglary and burglars.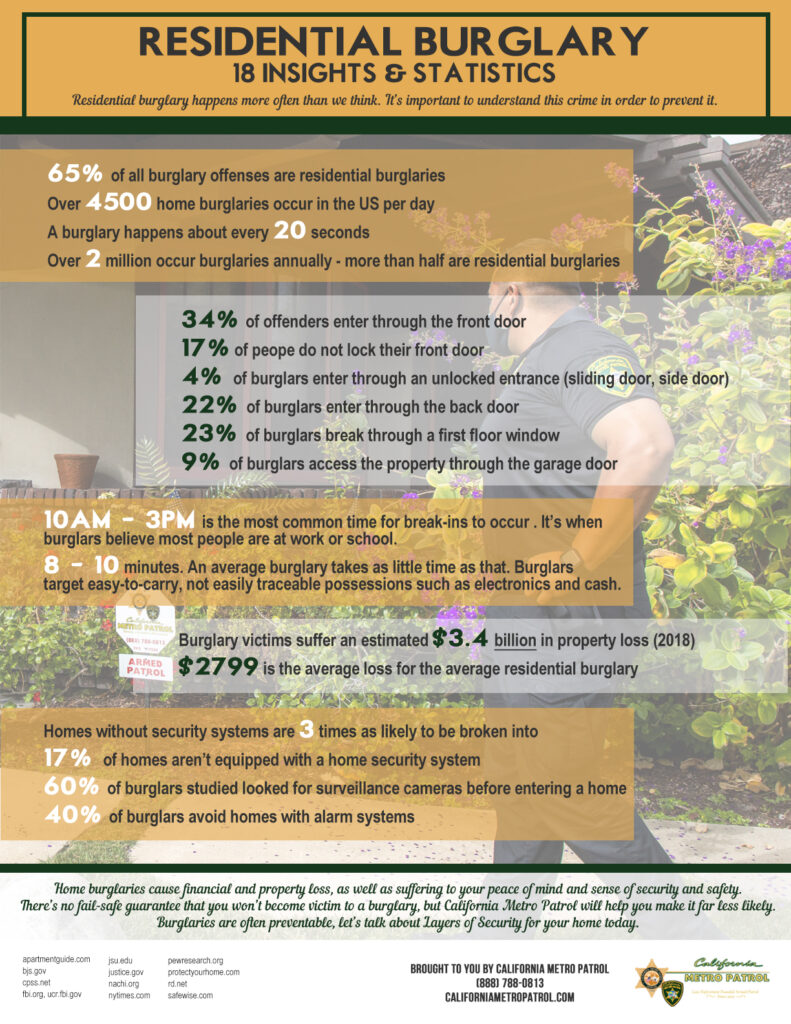 What Now?
Don't become part of these statistics, make a home security system a priority rather than an afterthought. California Metro Patrol is committed to your security and family's safety by using Layers of Security. This starts with professional alarm and patrol signage at your curb and integrates well-placed surveillance cameras, an alarm system, and we'll recommend strategic lighting to illuminate those hidden nooks. We check your doors and windows have solid locks and suggest alarm sensor placement. We'll assess your home to customize the best security system for your home and needs.
Remember, burglars don't spend a lot of time exploring after they break in. Burglars will move on rather than risk entering a residence protected with Layers of Security and a robust security system.
Schedule a no-obligation quote today  or call us at 888-788-0813 – we're here to help you make your home a safe sanctuary.
Click here to access our Residential Burglary – 18 Insights and Statistics Infographic.